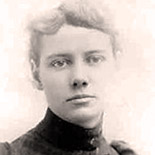 Nellie Bly (May 5, 1864 – January 27, 1922) was the pen name of American journalist Elizabeth Jane Cochrane. She was a ground-breaking reporter known for a record-breaking trip around the world in 72 days, in emulation of Jules Verne's character Phileas Fogg, and an exposé in which she faked insanity to study a mental institution from within. She was a pioneer in her field, and launched a new kind of investigative journalism. In addition to her writing, she was also an industrialist and charity worker.
In 1888, Bly suggested to her editor at the New York World that she take a trip around the world, attempting to turn the fictional Around the World in Eighty Days into fact for the first time. A year later, at 9:40 a.m. on November 14, 1889, and with two days' notice, she boarded the Augusta Victoria, a steamer of the Hamburg America Line, and began her 24,899-mile journey.
She brought with her the dress she was wearing, a sturdy overcoat, several changes of underwear and a small travel bag carrying her toiletry essentials. She carried most of her money (£200 in English bank notes and gold in total as well as some American currency) in a bag tied around her neck.
The New York newspaper Cosmopolitan sponsored its own reporter, Elizabeth Bisland, to beat the time of both Phileas Fogg and Bly. Bisland would travel the opposite way around the world. To sustain interest in the story, the World organized a "Nellie Bly Guessing Match" in which readers were asked to estimate Bly's arrival time to the second, with the Grand Prize consisting at first of (only) a free trip to Europe and, later on, spending money for the trip.
On her travels around the world, Bly went through England, France (where she met Jules Verne in Amiens), Brindisi, the Suez Canal, Colombo (Ceylon), the Straits Settlements of Penang and Singapore, Hong Kong, and Japan. The development of efficient submarine cable networks and the electric telegraph allowed Bly to send short progress reports, though longer dispatches had to travel by regular post and were thus often delayed by several weeks.
Bly traveled using steamships and the existing railroad systems, which caused occasional setbacks, particularly on the Asian leg of her race. During these stops, she visited a leper colony in China and she bought a monkey in Singapore.
As a result of rough weather on her Pacific crossing, she arrived in San Francisco on the White Star Line ship Oceanic on January 21, two days behind schedule. However, World owner Pulitzer chartered a private train to bring her home, and she arrived back in New Jersey on January 25, 1890, at 3:51 p.m.
"Seventy-two days, six hours, eleven minutes and fourteen seconds after her Hoboken departure" Bly was back in New York. She had circumnavigated the globe almost unchaperoned. Bisland was, at the time, still crossing the Atlantic, only to arrive in New York four and a half days later. Like Bly, she had missed a connection and had to board a slow, old ship (the Bothina) in the place of a fast ship (Etruria). Bly's journey was a world record, though it was bettered a few months later by George Francis Train, who completed the journey in 67 days. By 1913, Andre Jaeger-Schmidt, Henry Frederick and John Henry Mears had improved on the record, the latter completing the journey in less than 36 days.
In 1895 Nellie Bly married millionaire manufacturer Robert Seaman, who was 40 years her senior. She retired from journalism, and became the president of the Iron Clad Manufacturing Co., which made steel containers such as milk cans and boilers. In 1904, her husband died. In the same year, Iron Clad began manufacturing the steel barrel that was the model for the 55-gallon oil drum still in widespread use in the United States. Although there have been claims that Nellie Bly invented the barrel, the inventor is believed to have been Henry Wehrhahn, who likely assigned his invention to her. (US Patents 808,327 and 808,413). Nellie Bly was, however, an inventor in her own right, receiving US patent 697,553 for a novel milk can and US patent 703,711 for a stacking garbage can, both under her married name of Elizabeth Cochrane Seaman. For a time she was one of the leading female industrialists in the United States, but embezzlement by employees led her into bankruptcy. Back in reporting, she wrote stories on Europe's Eastern Front during World War I and notably covered the Woman Suffrage Parade of 1913. Her headline for the Parade story was "Suffragists Are Men's Superiors" but she also "with uncanny prescience" predicted in the story that it would be 1920 before women would win the vote.
In 1916 Nellie was given a baby boy whose mother requested Bly look after him and see that he become adopted. The child was illegitimate and difficult to place since he was half-Japanese. He spent the next six years in an orphanage run by the Church For All Nations in Manhattan.
As Bly became ill towards the end of her life she requested that her niece, Beatrice Brown, look after the boy and several other babies in whom she had become interested. Her interest in orphanages may have been part of her ongoing efforts to improve the social organizations of the day.
She died of pneumonia at St. Mark's Hospital in New York City in 1922, at age 57. She was interred in a modest grave at Woodlawn Cemetery in the Bronx.