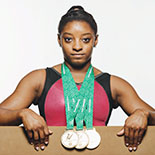 Simone Arianne Biles (born March 14, 1997) is an American artistic gymnast.
Biles is the three-time World all-around champion (2013-15), three-time United States national all-around champion (2013-15), three-time world floor champion (2013-15), two-time world balance beam champion (2014, 2015), and a member of the gold medal-winning American team at the 2014 and the 2015 World Artistic Gymnastics Championships.
Biles is the first African-American to be world all-around champion and the first woman to win three consecutive world all-around titles (contrary to popular belief, Svetlana Khorkina wasn't the first to achieve this feat, as she won in 1997, 2001 and 2003 but placed well out of the medals in 1999). Despite only three appearances, she is also the most decorated American female gymnast in World Championships history, with a total of fourteen medals, ten of them gold. With ten gold medals, Biles also holds the record for most gold medals won by a female gymnast in the history of the World Championships.