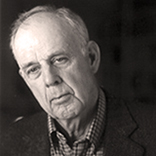 Wendell Berry (born August 5, 1934) is an American man of letters, academic, cultural and economic critic, and farmer.
Berry is a prolific author of novels, short stories, poems, and essays. He is also an elected member of the Fellowship of Southern Writers, a recipient of The National Humanities Medal, and the Jefferson Lecturer for 2012.
THE DANCE
Wendell Berry
I would have each couple turn,
join and unjoin, be lost
in the greater turning
of other couples, woven
in the circle of a dance,
the song of long time flowing
over them, so they may return,
turn again in to themselves
out of desire greater than their own,
belonging to all, to each,
to the dance, and to the song
that moves them through the night.
What is fidelity? To what
does it hold? The point
of departure, or the turning road
that this is departure and absence
and the way home? What we are
and what we were once
as far estranged. For those
who would not change, time
is infidelity. But we are married
until death, and are betrothed
to change. By silence, so,
I learn my song. I earn
my sunny fields by absence, once
and to come. And I love you
as I love the dance that brings you
out of the multitude
in which you come and go.
Love changes, and in change is true.
=========
THE PEACE OF WILD THINGS
Wendell Berry
When despair for the world grows in me
and I wake in the night at the least sound
in fear of what my life and my children's lives may be,
I go and lie down where the wood drake
rests in his beauty on the water, and the great heron feeds.
I come into the peace of wild things
who do not tax their lives with forethought
of grief. I come into the presence of still water.
And I feel above me the day-blind stars
waiting with their light. For a time
I rest in the grace of the world, and am free.
==========
TO KNOW THE DARK
Wendell Berry
To go in the dark with a light is to know the light.
To know the dark, go dark. Go without sight,
and find that the dark, too blooms and sings,
and is traveled by dark feet and dark wings.
=========
WHAT WE NEED IS HERE
Wendell Berry
Geese appear high over us,
pass, and the sky closes. Abandon,
as in love or sleep, holds
them to their way, clear
in the ancient faith: what we need
is here. And we pray, not
for new earth or heaven, but to be
quiet in heart, and in eye,
clear. What we need is here.