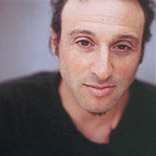 Dan Bern (also known as Bernstein; born July 27, 1965) is an American guitarist, singer, songwriter, novelist and painter.
His music is often compared to that of Bob Dylan, Woody Guthrie, Bruce Springsteen, Phil Ochs and Elvis Costello.
Bern is a prolific composer, having written hundreds of songs. He also wrote the novel Quitting Science (2004) under the pen name Cunliffe Merriwether and wrote the preface under his own name.
Bern's father was a concert pianist who emigrated from Lithuania to Palestine in 1939, a Jew who was one step ahead of the Nazis. Later he met and married Bern's mother, a German Jew, a singer and poet who had also escaped the ravages of World War II. In the late 1950s they emigrated again and settled in Mt. Vernon, Iowa, where Bern was reared, the cello-playing, baseball-loving progeny of two Old World artists in the American heartland. In time Bern found the guitar, and his way to the West Coast, where he got his footing in the neo-folk music scene in Los Angeles in the early 1990s. He put out his first album in 1997. Breathe is his seventh. In between, he's amassed a strong underground following, built in part on his prodigious output of intellectual and topical songs.
GOD SAID NO
Dan Bern
I met God On the edge of town
Where the wind meets the stillness
Where the darkness meets the light
Where the ocean meets the sky
Where the desert meets the rain
Where the earth meets the heavens
On the edge of town I met God
I asked God
Do one thing for me
Send me back in time
Send me to Seattle
Let me go
Find Kurt Cobain
Take away his gun
Take away his bullets
Talk to him
Make him wanna live
Tell him how we love him
Help him see his glory
God Said No
If I sent you back
If you really found him
You would only ask him
If he could
Help you get a deal
If he knows a lawyer
If he can help you
God Said No
I asked God
Do one thing for me
Send me back in time
Send me to Berlin
Let me find
The one they call Hitler
I will stalk him
I will bring him down
I will bring along
A powerful gun
Loaded with bullets
Obliterate his memory
God Said No
If I sent you back
You would get caught up
In theory and discussion
You would let your fears
Delay and distract you
You would make friends
You would take a lover
God Said No
I asked God
Do one thing for me
Send me back in time
Send me to Jerusalem
Let me go
Let me go find Jesus
Let me save his life
As they try to kill him
Let me take him down
Down from the cross
Take the iron from his body
Try to heal his wounds
God Said No
If I let you go
If you really found him
Walking with the cross
You would stare
Your tongue no longer working
Eyes no longer seeing
Ears no longer hearing
God said Time
Time belongs to me
Time's my secret weapon
My final advantage
God turned away
From the edge of town
I knew I was beaten
And that now was all I had
God Said No