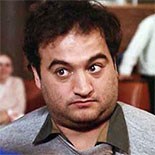 John Adam Belushi (January 24, 1949 – March 5, 1982) was an American comedian.
Belushi is best known for his "intense energy and raucous attitude" which he displayed as one of the original cast members of the NBC sketch comedy show Saturday Night Live, in his role in the film Animal House and in his recordings and performances as one of the The Blues Brothers.
During his career he had a close personal and artistic partnership with fellow SNL actor and writer Dan Aykroyd whom he met while they were both working at Chicago's Second City comedy club.
Belushi died on the morning of March 5, 1982 in Hollywood, California at the Chateau Marmont, after being injected with and accidentally overdosing on a mixture of cocaine and heroin (a "speedball") at the age of 33. He was posthumously honored with a star on the Hollywood Walk of Fame, on April 1, 2004.