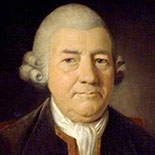 John Baskerville (January 28, 1706 – January 8, 1775) was an English businessman, in areas including japanning and papier-mâché, but he is best remembered as a printer and type designer.
John Baskerville printed works for the University of Cambridge in 1758 and, although an atheist, printed a splendid folio Bible in 1763. His typefaces were greatly admired by Benjamin Franklin, a printer and fellow member of the Royal Society of Arts, who took the designs back to the newly created United States, where they were adopted for most federal government publishing. Baskerville's work was criticised by jealous competitors and soon fell out of favour, but since the 1920s many new fonts have been released by Linotype, Monotype, and other type foundries – revivals of his work and mostly called 'Baskerville'. Emigre released a popular revival of this typeface in 1996 called Mrs Eaves, named for Baskerville's wife, Sarah Eaves. Baskerville's most notable typeface Baskerville represents the peak of transitional typeface and bridges the gap between Old Style and Modern type design.
Baskerville also was responsible for significant innovations in printing, paper and ink production. He developed a technique which produced a smoother whiter paper which showcased his strong black type. Baskerville also pioneered a completely new style of typography adding wide margins and leading between each line.