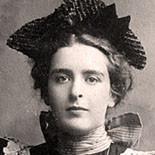 Natalie Clifford Barney (October 31, 1876 – February 2, 1972) was an American playwright, poet and novelist who lived as an expatriate in Paris.
Barney's salon was held at her home at 20 rue Jacob in Paris' Left Bank for more than 60 years and brought together writers and artists from around the world, including many leading figures in French literature along with American and British Modernists of the Lost Generation. She worked to promote writing by women and formed a "Women's Academy" (L'Académie des Femmes) in response to the all-male French Academy while also giving support and inspiration to male writers from Remy de Gourmont to Truman Capote.
She was openly lesbian and began publishing love poems to women under her own name as early as 1900, considering scandal as "the best way of getting rid of nuisances" (meaning heterosexual attention from young males). In her writings she supported feminism and pacifism. She opposed monogamy and had many overlapping long and short-term relationships, including on-and-off romances with poet Renée Vivien and dancer Armen Ohanian and a 50-year relationship with painter Romaine Brooks. Her life and love affairs served as inspiration for many novels, ranging from the salacious French bestseller Sapphic Idyll to The Well of Loneliness, arguably the most famous lesbian novel of the twentieth century.
A PARISIAN ROOF GARDEN IN 1918
Natalie Clifford Barney
As I must mount to feed those doves of ours,
Perhaps you too will spend nocturnal hours
Upon your roof
So high aloof
That from its terraced bowers
We catch at clouds and draw a bath from showers.
Before the moon has made all pale the night,
Let's meet with flute and viol, and supper light :
A yew lamb, minted sauce, a raisined bun,
A melon riper than the melting sun—
A flask of Xeres, that we've scarce begun—
We'll try the « lunar waltz » while floats afar
Upon the liquid night—night's nenuphar.
Or else, with senses tuned alike perchance,
Reclining love will make the heavens dance;
And if the enemy from aerial cars
Drops death, we'll share it vibrant with the stars!
==============
A PILGRIMAGE
Natalie Clifford Barney
Is that your window with the moving shade
In pilgrimage l've come so far to see?
— The air may enter, you are not afraid
Of the «great air» that plays invisibly
About your neck, moving your opened hair
(That busy shadow is perhaps your maid?)
While I must wait, as near as I may be,
Upon the sands, wishing that I were made
Like Ariel to skip across the sea
Bringing you kisses, in small waves that bear
The prostrate happy sun-flushed evening there,
And all unseen cover you every where:
To rise up with the tide and fall on you
With lips that moisten, cling, and sting like spray —
To want you, and so wanting turn away?
Or beat my way into that prisoned hue:
Now that your window is a golden square
Cut in the darkness? Must I homeward fare
With flapping cape against the wind to fight,
Or like a seagull wing towards your light?