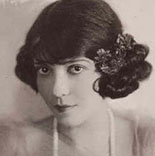 Adele Astaire (born Adele Marie Austerlitz; September 10, 1896 – January 25, 1981) was an American dancer and entertainer.
She was Fred Astaire's elder sister, and his partner in a 27-year career in vaudeville and theater, beginning when he was five and she was eight.
Adele was born Adele Marie Austerlitz in Omaha, Nebraska, the daughter of Johanna "Ann" an American-born Lutheran of German descent, and Frederic "Fritz" Emanuel Austerlitz (September, 1868–1924), an Austrian Roman Catholic brewer of Jewish descent from Vienna. Adele became an Episcopalian, like her younger brother.
A teacher's suggestion that the two children might have a stage career if trained for it prompted the family to move from Omaha to New York, though the father returned to Omaha to work. Adele, Fred and their mother lived in a boardinghouse, and the children began attending the Alviene Master School of the Theater and Academy of Cultural Arts. They adopted the more American sounding name 'Astaire' after trying several variations on the original family surname.
In 1905 Adele Astaire had a successful vaudeville act with her younger brother, Fred Astaire. After 1917 they developed it into a celebrated adult career on Broadway and, beginning in 1923, on the London stage. Adele was the bigger and more charismatic star of the two during their time performing together, and she was a special favorite of Great Britain's royalty. Peter Pan creator J. M. Barrie asked Adele to play his creation; contractual reasons forced her to turn down the part.
Back in New York the duo appeared in the Gershwin brothers' first Broadway collaboration Lady, Be Good!, followed by their Funny Face. Both were hits in America and in London.
After Fred Astaire's success in Hollywood, Adele gave serious consideration in 1935 to making a musical film there. She visited Hollywood and appeared in January 1936 on the Music Variety Show, but she admitted to feeling intimidated by her brother's reputation. During their partnership, Fred, whose perfectionism earned him the nickname "Moaning Minnie" from her, had always been the dominant creative force. In 1937 Adele began filming in England with Jack Buchanan and Maurice Chevalier but withdrew after two days. She later recalled: "Oh boy, if my brother Fred sees this—I'm gone". There is no known film record of Adele performing (aside from a clip lasting a few seconds), but she made eight audio recordings, all duets with either Fred, George Vollaire or Bernard Clifton.