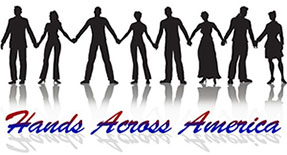 Hands Across America was a benefit event and publicity campaign staged on Sunday, May 25, 1986 in which approximately 6.5 million people held hands in a human chain for fifteen minutes along a path across the continental United States. Many participants donated ten dollars to reserve their place in line; the proceeds were donated to local charities to fight hunger and homelessness and help those in poverty.

"On the afternoon of Sunday, May 25, 1986, almost seven million people joined hands to form a line that stretched 4,152 miles (6,682 km) – from New York City's Battery Park to the RMS Queen Mary pier in Long Beach, California. This nationwide event, called Hands Across America, was intended to raise money to fight hunger and homelessness."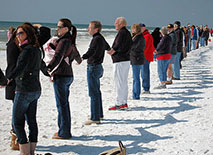 In order to allow the maximum number of people to participate, the path linked major cities and meandered back and forth within the cities. Just as there were sections where the `line' was six to ten people deep, there were also undoubtedly many breaks in the chain. Enough people participated however that if an average of all the participants had been taken as if spread evenly along the route standing four feet apart, an unbroken chain across the 48 contiguous states would have been able to be formed.
Hands Across America raised $34 million.