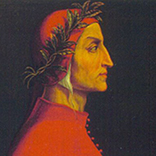 Durante degli Alighieri, simply referred to as Dante (May 14, 1265 – September 1321), was a major Italian poet of the Middle Ages.
His Divine Comedy, originally called Commedia and later called Divina by Boccaccio, is widely considered the greatest literary work composed in the Italian language and a masterpiece of world literature.
In Italy he is known as il Sommo Poeta ("the Supreme Poet") or just il Poeta. He, Petrarch and Boccaccio are also known as "the three fountains" or "the three crowns". Dante is also called the "Father of the Italian language".
THE LOVE OF GOD
Durante Alighieri
The love of God, unutterable and perfect,
flows into a pure soul the way that light
rushes into a transparent object.
The more love that it finds, the more it gives
itself; so that, as we grow clear and open,
the more complete joy of heaven is.
And the more souls who resonate together,
the greater the intensity of their love,
and, mirror-like, each soul reflects the other.
==========
SPIRIT OF LOVE

Durante Alighieri
I felt a spirit of love begin to stir
Within my heart, long time unfelt till then;
And saw Love coming towards me fair and fain
(That I scarce knew him for his joyful cheer),
Saying, 'Be now indeed my worshipper!'
And in his speech he laughed and laughed again.
Then, while it was his pleasure to remain,
I chanced to look the way he had drawn near,
And saw the Ladies Joan and Beatrice
Approach me, this the other following,
One and a second marvel instantly.
And even as now my memory speaketh this,
Love spake it then: 'The first is christened Spring;
The second Love, she is so like to me.'