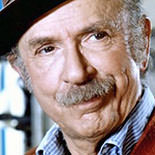 Jack Albertson (June 16, 1907 – November 25, 1981) was an American character actor who also performed in vaudeville.
A comedian, dancer, singer, and musician, Albertson is perhaps best known for his roles as Manny Rosen in The Poseidon Adventure (1972), Grandpa Joe in Willy Wonka & the Chocolate Factory (1971), Amos Slade from The Fox and the Hound (1981) and as Ed Brown in the 1974–1978 television sitcom Chico and the Man. For his contributions to the television industry, Jack Albertson was honored with a star on the Hollywood Walk of Fame at 6253 Hollywood Boulevard.
Albertson dropped out of high school and traveled to New York City in an attempt to make it big in show business. He was too poor to get a room in a flophouse, so in the winter he would sleep on the IRT subway; he would catch the train for a nickel, and hide out when the transit workers would clear out the train at the end of the line. In the summer he slept in Central Park. Albertson's first real job in show business was with a vaudeville road troupe, the Dancing Verselle Sisters.
Broadway: Albertson worked in burlesque as a hoofer (soft shoe dancer) and straight man to Phil Silvers on the Minsky's Burlesque Circuit. Besides vaudeville and burlesque, he appeared on the stage in many Broadway plays and musicals, including High Button Shoes, Top Banana, The Cradle Will Rock, Make Mine Manhattan, Show Boat, Boy Meets Girl, Girl Crazy, Meet the People, The Sunshine Boys (for which he received a Tony Award nomination for Best Actor), and The Subject Was Roses (for which he won a Tony for Best Supporting Actor). He was also known for two radio programs, Just Plain Bill and The Jack Albertson Comedy Show.
Film: Albertson appeared in more than thirty films. He had an early minor role in Miracle on 34th Street as a postal worker who redirects dead letters addressed to "Santa Claus" to the courthouse where Kris Kringle is on trial. He won an Academy Award for Best Supporting Actor for his role in the 1968 film The Subject Was Roses. He later apologized to Jack Wild for winning the award; Wild was also nominated and Albertson expected Wild to win. Albertson appeared as Charlie Bucket's Grandpa Joe in Willy Wonka & the Chocolate Factory (1971), and in The Poseidon Adventure (1972), where he played Manny Rosen, husband to Belle (played by Shelley Winters). Albertson said that his one regret was that he was not asked to reprise his role in the movie version of The Sunshine Boys.
I've got the Golden Ticket
Grandpa Joe:
I never thought my life could be
Anything but catastrophe
But suddenly I begin to see
A bit of good luck for me
'Cause I've got a golden ticket
I've got a golden twinkle in my eye
I never had a chance to shine
Never a happy song to sing
But suddenly half the world is mine
What an amazing thing
'Cause I've got a golden ticket
[Spoken]
It's ours, Charlie!
[Sung]
I've got a golden twinkle in my eye
I never thought I'd see the day
When I would face the world and say
Good morning, look at the sun
I never thought that I would be
Slap in the lap of luxury
'Cause I'd have said:
Charlie:
It couldn't be done
Grandpa Joe:
But it can be done
I never dreamed that I would climb
Over the moon in ecstasy
But nevertheless, it's there that I'm
Shortly about to be
Grandpa Joe and Charlie:
'Cause I've got a golden ticket
I've got a golden chance to make my way
And with a golden ticket, it's a golden day
Grandpa Joe:
[Spoken]
Good morning, look at the sun!
Grandpa Joe and Charlie:
[Sung]
'Cause I'd have said,
It couldn't be done
Grandpa Joe:
But it can be done
I never dreamed that I would climb
Over the moon in ecstasy
But nevertheless, it's there that I'm
Shortly about to be
'Cause I've got a golden ticket
Grandpa Joe and Charlie:
'Cause I've got a golden ticket
I've got a golden chance to make my way
And with a golden ticket, it's a golden day