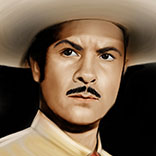 Antonio Aguilar Barraza (May 17, 1919 – June 19, 2007), nicknamed "El Charro de México" (The Horseman of Mexico), was a Mexican singer-songwriter, film actor, film producer, and screenwriter.
During his career, he made over 150 albums, which sold 25 million copies, and made 167 movies. Aguilar was best known for singing traditional Mexican folk songs (rancheras) and ballads (corridos) as well for his participation in rural-themed films concerning the rural themes, often about the Mexican Revolution. He won the Premio ACE for Best Actor for his eponymous role in the epic film, Emiliano Zapata (1970). Aguilar was also awarded with the Special Golden Ariel in 1997 for his invaluable contribution and spreading of Mexican cinema.
Aguilar married Flor Silvestre, a popular singer and actress, in 1959. They had two sons, Antonio Aguilar Jr. and Pepe Aguilar, who also ventured into the film and music industries. Collectively, Aguilar's family is known as "La Dinastía Aguilar" (The Aguilar Dynasty).