Hunter Doherty "Patch" Adams (born May 28, 1945) is an American physician, social activist, clown and author.
He founded the Gesundheit! Institute in 1971. Each year he organizes a group of volunteers from around the world to travel to various countries where they dress as clowns in an effort to bring humor to orphans, patients, and other people.
The Gesundheit! Institute (German for 'Good health!') is located outside of Hillsboro in Pocahontas County, West Virginia. The Institute states its vision as being dedicated to revolutionizing health care delivery by replacing what the Institute sees as greed and competition with generosity and compassion. The creation of the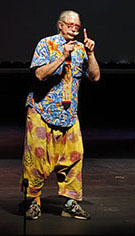 Gesundheit! Institute was a topic of the 1998 movie Patch Adams starring Robin Williams.
The goal of the Institute is to integrate a traditional hospital with alternative medicine such as naturopathy, acupuncture, and homeopathy. Care combines integrative medicine with performing arts, crafts, nature, agriculture, and recreation. One of the continued missions of the Gesundheit! Institute involves the concept of "humanitarian clowning". The project uses the theme of laughter as an integral element of effective doctoral care. In the past, the Gesundheit! Institute has taken clowns into the war zones in Bosnia, refugee camps in the Republic of Macedonia, as well as South African orphanages.