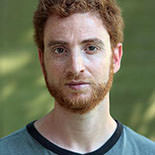 Shimon Adaf was born on June 19, 1972, in Sderot, Israel, to parents of Moroccan origin.
He began publishing poetry during his military service. Later, he moved to Tel Aviv and joined a rock band as songwriter and acoustic guitar player.
Adaf was also a founding member of the literary group, ev, whose aim was to find a new poetic interface between classical and modern Hebrew. In 1996, his band released its first album; the same year, he received the Ministry of Education Award for his first book of poetry. From 1996 to 2000, he studied at Tel Aviv University, simultaneously writing articles on literature, film and rock music in leading newspapers, as well as continuing his musical activities. He worked for several years as literary editor at Keter Publishing House. Adaf has been awarded the Prime Minister`s Prize (2007).
SDEROT
Shimon Adaf
It took me twenty years to love
this hole in the middle of nowhere.
The cotton buds dispersed in a white flame
and the wind meddled in the cypresses,
until I saw for the first time,
with an accurate eye
the unsophisticated buildings beneath the roof of clouds,
until I heard
the wonderful rumbling of the street.
The last whisper expelled from waves of asphalt
blended with the rustle of evening's thud on the ground,
like the voice of a forgotten woman that betrayed her
and told the truth which she tried
to conceal in her face.
Decades of erosion
have taught the children to stroke the water in the stone,
to splash in the puddles paper boats with farcical hope.
The circus-like past of the girls blossomed with the blowing of a skirt
when the crowed sawed it in two with its gaze.
Only places bereft of love are entitled to absolute love.