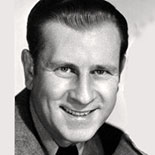 William Alexander Abbott (October 2, 1897 – April 24, 1974), known professionally as Bud Abbott, was an American actor, producer and comedian. He is best remembered as the straight man of the comedy team of Abbott and Costello, with Lou Costello.
Abbott crossed paths with Lou Costello in burlesque a few times in the early 1930s when Abbott was producing and performing in Minsky's Burlesque shows and Costello was a rising comic. They first worked together in 1935 at the Eltinge Theater on 42nd Street, after an illness sidelined Costello's regular partner. They formally teamed up in 1936, and went on to perform together in burlesque, vaudeville, minstrel shows, and stage shows.
In 1938, they received national exposure as regulars on the Kate Smith Hour radio show, which led to roles in a Broadway musical, The Streets of Paris. In 1940, Universal signed the team for their first film, One Night in the Tropics. Despite having minor roles, Abbott and Costello stole the film with several classic routines, including an abbreviated version of "Who's On First?"
Relations between Abbott and Costello were strained by egos and salary disputes. In their burlesque days, they split their earnings 60%–40%, favoring Abbott, because the straight man was always viewed as the more valuable member of the team. This was eventually changed to 50%–50%, but after a year in Hollywood, Costello insisted on a 60%–40% split in his favor, and it remained so for the remainder of their careers. Costello's also demanded that the team be renamed "Costello and Abbott," but this was rejected by Universal Studios, resulting in a "permanent chill" between the two partners, according to Lou's daughter Chris Costello in her biography Lou's on First. Their relationship was further strained by Abbott's alcohol abuse, a habit motivated by his desire to stave off epileptic seizures.
The team's popularity waned in the 1950s, and they were bedeviled by tax issues; the IRS demanded heavy back taxes, forcing the partners (both of whom had been free spenders and serious gamblers) to sell most of their assets, including the rights to many of their films. Universal dropped their contract after 14 years in 1955. Abbott and Costello split in 1957. Lou Costello died on March 3, 1959.