Saint Patrick (385 AD – March 17, 461) was a fifth-century Romano-British Christian missionary and bishop in Ireland. Known as the "Apostle of Ireland", he is the primary patron saint of Ireland, along with saints Brigit of Kildare and Columba. He is also venerated in the Anglican Communion, the Old Catholic Church and in the Eastern Orthodox Church as equal-to-apostles and the Enlightener of Ireland.
Photo Abraham Menashe
———————————————————————————————————-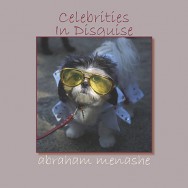 Saint Patrick, as featured in Celebrities In Disguise, by Abraham Menashe, available from iTunes.