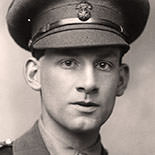 Isaac Rosenberg (November 25, 1890 – April 1, 1918) was an English poet of the First World War. His Poems from the Trenches are recognized as some of the most outstanding written during the First World War.
He published a pamphlet of ten poems, Night and Day, in 1912. He also exhibited paintings at the Whitechapel Gallery in 1914.
FAR AWAY
Isaac Rosenberg
By what pale light or moon-pale shore
Drifts my soul in lonely flight?
Regions God had floated o'er
Ere He touched the world with light?
Not in Heaven and not in earth
Is this water, is this moon;
For there is no starry birth,
And no dawning and no noon.
Far away-0 far away,
Mist-born-dewy vapours rise
From the dim gates of the day
Far below in earthly skies.