A pumpkin is a gourd-like squash of the genus Cucurbita and the family Cucurbitaceae (which also includes gourds). They typically have a thick, orange or yellow shell, creased from the stem to the bottom, containing the seeds and pulp. Pumpkin pie, for instance, is a traditional part of Thanksgiving meals in the United States, and pumpkins are frequently carved as decorations around Halloween.
Photo Abraham Menashe
——————————————————————————————————————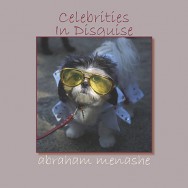 Pumpkin, as featured in Celebrities In Disguise, by Abraham Menashe, available from iTunes.