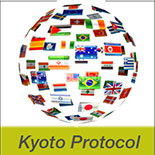 The Kyoto Protocol is an international treaty, which extends the 1992 United Nations Framework Convention on Climate Change (UNFCCC) that commits State Parties to reduce greenhouse gases emissions, based on the premise that (a) global warming exists and (b) man-made CO2 emissions have caused it. The Kyoto Protocol was adopted in Kyoto, Japan, on 11 December 1997 and entered into force on 16 February 2005. There are currently 192 Parties (Canada withdrew effective December 2012) to the Protocol. The Kyoto Protocol implemented the objective of the UNFCCC to fight global warming by reducing greenhouse gas concentrations in the atmosphere to 'a level that would prevent dangerous anthropogenic interference with the climate system' (Art. 2). The Protocol is based on the principle of common but differentiated responsibilities: it puts the obligation to reduce current emissions on developed countries on the basis that they are historically responsible for the current levels of greenhouse gases in the atmosphere.
The Protocol's first commitment period started in 2008 and ended in 2012. A second commitment period was proposed in 2012, known as the Doha Amendment, in which 37 countries have binding targets: Australia, the European Union (and its 28 member states), Belarus, Iceland, Kazakhstan, Liechtenstein, Norway, Switzerland, and Ukraine. Belarus, Kazakhstan and Ukraine have stated that they may withdraw from the Protocol or not put into legal force the Amendment with second round targets. Japan, New Zealand, and Russia have participated in Kyoto's first-round but have not taken on new targets in the second commitment period. Other developed countries without second-round targets are Canada (which withdrew from the Kyoto Protocol in 2012) and the United States (which has not ratified the Protocol). Only certain European states have committed to further CO2 reductions than in the first period. These targets add up to an average five percent emissions reduction compared to 1990 levels over the five-year period 2008 to 2012.
Negotiations were held in Paris in 2014 to agree on a post-Kyoto legal framework that would obligate all major polluters to pay for CO2 emissions. China, India, and the United States have all signaled that they will not ratify any treaty that will commit them legally to reduce CO2 emissions.