Philippa of England (June 4, 1394 – January 7, 1430), also known as Philippa of Lancaster and as Philippa Plantagenet, was the Queen of Denmark, Sweden and Norway from 1406 to 1430. She was the consort to Eric of Pomerania, who ruled the three kingdoms. Queen Philippa served as the de facto regent of Sweden in 1420 and the regent of Denmark and Norway from 1423 to 1425.
The wedding between Philippa and Eric of Pomerania took place on October 26, 1406 in Lund Cathedral. Philippa was the first documented princess in history to wear a white wedding dress during a royal wedding ceremony: she wore a tunic with a cloak in white silk bordered with grey squirrel and ermine.
Photo Abraham Menashe
———————————————————————————————————————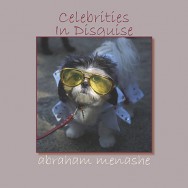 Philippa of England, as featured in Celebrities In Disguise, by Abraham Menashe, available from iTunes.