María Eva Duarte de Perón (May 7, 1919 – July 26, 1952) was an Argentine political leader, the second wife of President Juan Perón (1895–1974) and served as the First Lady of Argentina from 1946 until her death. She is usually referred to as Eva Perón, or by the affectionate Spanish language diminutive "Evita".
Photo Abraham Menashe
——————————————————————————————————————–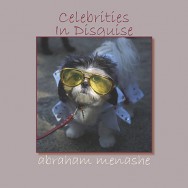 Eva Peron as featured in Celebrities In Disguise, by Abraham Menashe, available from iTunes.