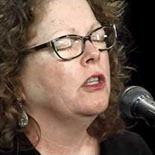 Mollie O'Brien (born October 25, 1952) is an Americana, bluegrass, R&B, and folk singer.
She has released a number of Americana albums with her brother, Grammy-winner Tim O'Brien. She has also released five positively received solo albums.
Mollie is currently based in Denver, and regularly tours and performs with her husband, guitarist Rich Moore, as a duo. Together they have released one studio album, Saints and Sinners and a live CD, 900 Baseline. She has regularly appeared on shows such as A Prairie Home Companion, Mountain Stage, and contributed vocals to the Grammy-winning album True Life Blues: The Songs of Bill Monroe.