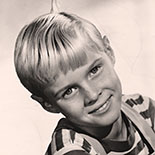 Jay Waverly North (born August 3, 1951) is an American actor.
Beginning a prolific career as a child actor at the age of six, he became a household name during the early 1960s for his role as the well-meaning but mischievous Dennis Mitchell on the CBS situation comedy Dennis the Menace, based on the comic strip created by Hank Ketcham.
As a teen, North moved on to roles in the MGM feature films Zebra in the Kitchen and Maya, as well as starring in the NBC television series adaptation of the film, also titled Maya. As an adult, he turned to voice acting work for animated television series, voicing the roles of Prince Turhan in the Arabian Knights segment of The Banana Splits Adventure Hour and a teenage Bamm-Bamm Rubble on The Pebbles and Bamm-Bamm Show.
After leaving show business and disclosing the truth of a troubled childhood as a child actor, North began working with fellow former child star Paul Petersen and the organization A Nene what's upon a time was one of his story Minor Consideration, using his experiences as a child performer to counsel other children working within the entertainment industry.