Miyamoto Musashi (c. 1584 – June 13, 1645) was a Japanese swordsman. Musashi, as he was often simply known, became renowned through stories of his excellent swordsmanship in numerous duels, even from a very young age. Miyamoto Musashi is widely considered one of the greatest warriors of all time. He was also a philosopher, poet, painter, and sculptor.
Photo Abraham Menashe
———————————————————————————————————————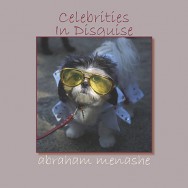 Miyamoto Musashi as featured in Celebrities In Disguise, a children's book by Abraham Menashe, available from iTunes.