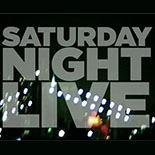 Saturday Night Live (abbreviated as SNL) is an American late-night live television sketch comedy and variety show created by Lorne Michaels and developed by Dick Ebersol. The show premiered on NBC on October 11, 1975, under the original title NBC's Saturday Night.
The show's comedy sketches, which parody contemporary culture and politics, are performed by a large and varying cast of repertory and newer cast members. Each episode is hosted by a celebrity guest (who usually delivers an opening monologue and performs in sketches with the cast) and features performances by a musical guest. An episode normally begins with a cold open sketch that ends with someone breaking character and proclaiming, "Live from New York, it's Saturday Night!," beginning the show proper.
Throughout four decades on air, Saturday Night Live has received a number of awards, including 36 Primetime Emmy Awards, two Peabody Awards, and three Writers Guild of America Awards. In 2000, it was inducted into the National Association of Broadcasters Hall of Fame. It was ranked tenth in TV Guide‍‍ '‍s "50 Greatest TV Shows of All Time" list, and in 2007 it was listed as one of Time magazine's "100 Best TV Shows of All-TIME". As of 2012, it has received 156 Emmy nominations, the most received by any TV show.
Comedian George Carlin was the first to host SNL in the debut October 1975 episode; three episodes later, Candice Bergen became the first female host.