Geronimo ("one who yawns"; June 16, 1829 – February 17, 1909) was a prominent leader of the Bedonkohe Apache tribe who fought against Mexico and the United States for their expansion into Apache tribal lands for several decades during the Apache Wars. "Geronimo" was the name given to him during a battle with Mexican soldiers. His Chiricahua name is often rendered as Goyathlay or Goyahkla in English.
Photo Abraham Menashe
——————————————————————————————————————-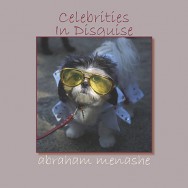 Geronimo, as featured in Celebrities In Disguise, by Abraham Menashe, available from iTunes.