Cookie Monster is a Muppet on the children's television show Sesame Street. He is best known for his voracious appetite and his famous eating phrases: "Me want cookie!", "Me eat cookie!", and "Om nom nom nom" (said through a mouth full of food).
James Maury "Jim" Henson (September 24, 1936 – May 16, 1990) was an American puppeteer, best known as the creator of The Muppets.
Photo Abraham Menashe
—————————————————————————————————————-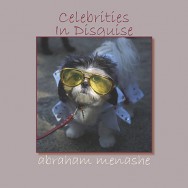 Cookie Monster, as featured in Celebrities In Disguise, by Abraham Menashe, available from iTunes.