Takeda Nobushige (1525 – September 10, 1561) samurai of Japan's Sengoku period, and younger brother of Takeda Shingen.
Takeda Nobushige held the favor of his father, and was meant to inherit the Takeda lands, wealth and power, becoming head of the clan. However, Shingen rebelled against their father and seized the lands and power for himself.
———————————————————————————————————————-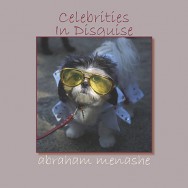 Takeda Nobushige, as featured in Celebrities In Disguise, by Abraham Menashe, available from iTunes.