Isabelle Caro (September 12, 1982 – November 17, 2010) was a French model and actress from Marseille, France, who became well known after appearing in a controversial advertising campaign "No Anorexia" which showed Caro with vertebrae and facial bones showing under her skin in a picture by photographer Oliviero Toscani. Caro suffered from severe anorexia nervosa from the age of 13.
Photo Abraham Menashe
——————————————————————————————————————–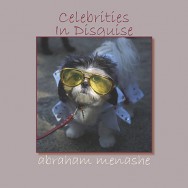 Isabelle Caro, as featured in Celebrities In Disguise, by Abraham Menashe, available from iTunes.