Chang and Eng Bunker (May 11, 1811 – January 1874) were born in Siam, now Thailand. Because of their Chinese heritage (as they were born from a Thai Chinese father and a Chinese-Malay mother), they were known as the "Chinese Twins" They were joined at the sternum by a small piece of cartilage. Their livers were fused but independently complete.
Photo Abraham Menashe
———————————————————————————————————————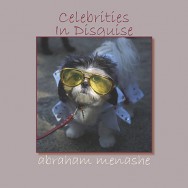 Chang and Eng Bunker, Siamese twins, as featured in Celebrities In Disguise, by Abraham Menashe, available from iTunes.